-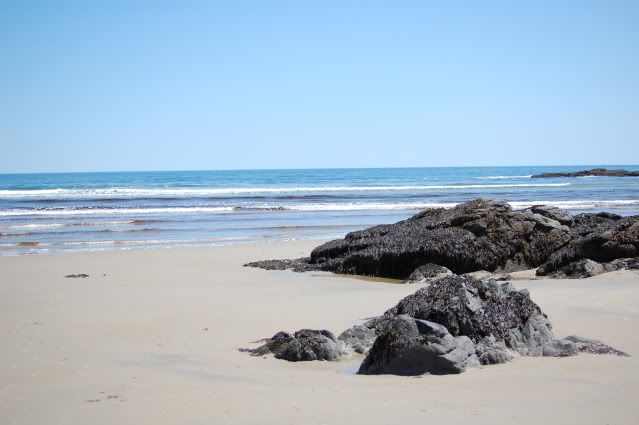 We only spent just a little over a week in the quaint little New England beach town of Ogunquit, but I sort of fell in love with it. As promised, these are a few of my favorite spots there . . .

Food
The Wild Blueberry
The best place in Ogunquit, in my opinion. Seriously. This little restaurant was right down the road from our hotel and we ate breakfast there three times - it was that good. Try the Belgian waffles with blueberries. It's like summer in your mouth! Their organic granola and yogurt parfait was excellent too, as well as the fruit selection. And the best part is that as soon as you sit down, they bring everyone at the table a buttery blueberry muffin. They serve lunch and dinner as well, but we only ever went for breakfast.
Amore Cafe
This was another favorite breakfast spot. It's a bit less classy and a bit more kitschy than The Wild Blueberry, but the food was just as good. Their granola was excellent too (I have a bit of an obsession with granola, if you haven't noticed) and you can even buy a container of it to take with you. My dad also raved about their raisin bread and omelets. They had a really broad menu with every breakfast option you can imagine. They are just open for breakfast and only on certain days during the off-season.
Caffe Prego
We had our first meal in Ogunquit at this casual Italian restaurant and it was scrumptious. I had delicious vegetable lasagna and we sat outside in a covered porch area. They also have a wide variety of desserts and gelato and it seemed like a lot of people stopped by just for dessert. We kept meaning to go back to try the gelato, but never got around to it - if it was anything like the rest of the food, I'm sure it would be delightful, especially on a hot summer day.
The Front Porch
I was a bit skeptical of this place from the outside decor, to be honest, but the inside was lovely and the food even better. The prices weren't terribly high, yet the restaurant itself has a fairly classy and refined feel to it (square white plates, anyone?). I had a tomato and basil flatbread on whole wheat crust and it was one of the best meals I had all week - light and delicious.
Bread and Roses Bakery
We stopped by this bakery quite a few times throughout the week - it's right on Main Street, so you pass it a lot - and I admittedly never actually tried anything. But from staring at all the breads and treats in the cases and seeing how crowded it was every day, I have no doubt that it is a good place to go. My mom also claimed that the iced coffee there was excellent. And if I am back in Ogunquit, I definitely want to try one of their blueberry oat bars . . .
Places to Stay

Anchorage By the Sea
Central location right near the center of the main street. Small but comfortable rooms. Extraordinarily clean. Right along the Marginal Way and just a seven-minute walk to the sandy beach. Excellent views of the sea. And, as far as I can tell, fairly good prices, especially during the off-season. Ask to stay in the Starboard building - it has the nicest views of the ocean.
Things to Do
Go antique shopping. My mom and sister and I spent one afternoon stopping by the many antique shops along Route 1. There are tons of them and they all seemed to have quite good prices. I scored a beautiful piece of flower-printed vintage fabric that was supposed to be $25 for just $1! Some of it was junk, but that's just a part of antiquing.
Take a walk on the Marginal Way. The Marginal Way is a 1.25 mile paved path along the rocky coast in Ogunquit, starting off in the center of town and taking you all the way to Perkins Cove, a little wharf area with more restaurants and shops. It's not a long or strenuous path whatsoever, but the views are incredible. And if you get up early enough to beat all the elderly couples out for their morning walks, it also makes a great running path.
See a show at the
Ogunquit Playhouse
. We didn't go, but apparently their plays are top of the line. And it does seem like a very summery thing to do to see a show at the beach's playhouse, if you ask me . . .
There are also some great nature reserves and hiking areas around apparently, although we didn't take as much advantage of these as I would have wished. Check out the
Rachel Carson National Wildlife Refuge
or the
Mount Agamenticus Conservation Region
- we heard excellent things about both places.
The town of Kennebunkport is also an easy 45-minutes away. There were a lot of opportunities for sea-kayaking and so forth there, as well as more shops and restaurants. If you go, definitely eat at the
Kennebunkport Inn
and visit the wonderful little store, the
Daytrip Society
.
And of course what do you go to the beach for but to sit on the beach and wade in the water and read books on the cliffs? That's pretty much what I spent most of my time doing while we were there, and it was perfect in every way.
More pictures from our trip
here
. . .
[picture of the beach in ogunquit]
-