-
-
-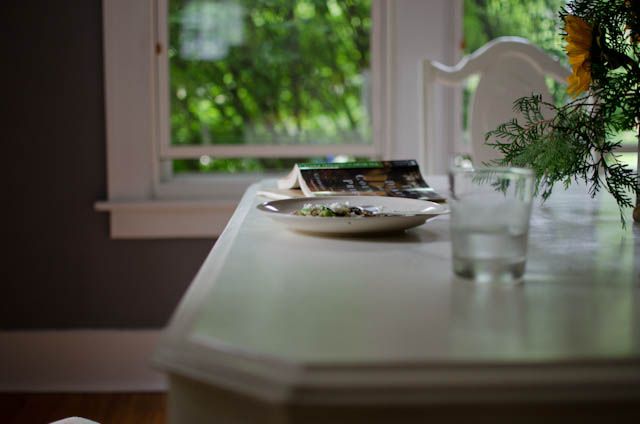 And it is summer. It came so soon and suddenly with its dusky thunderstorms and surprise morning rain followed immediately by sunshine. I am living now for a month with Emma and Torunn in a little home on a quiet street near the train station. We have made it our own as best we could with the little we have. Almost every piece of furniture in the house is from a different person, borrowed for a time and giving life to our house. The entire first floor is painted a New England blue and sometimes in the morning while I eat breakfast I imagine I am actually in Maine. Six impossible things before breakfast, you know?
I am working almost full-time at the bookstore. It is quiet work and sometimes tedious and dull, but I am grateful for the days when I get to seed through all the trade books. I may or may not know exactly where the books I love are and spend extra time dusting those shelves. I am inching my way through
My Bright Abyss
by Christian Wiman when no one is looking. And I spend my lunch breaks at the library reading
Image
and preparing for the next part of summer. These days are ordinary in the best way. They feel like life and I feel like an adult. I go to work and go grocery shopping and cook dinner, after all.
I made this dinner last night, inspired by a recipe I found in a cookbook Emma checked out from the library. I forget the name of the cookbook, but I changed the recipe pretty dramatically, so hopefully that forgives my lack of proper credit.
Farro with Edamame, Lemon, Arugula, & Goat Cheese
Ingredients:
3/4 cup farro grains
1 cup edamame
olive oil
1 lemon
1 clove garlic
2 cups arugula
2 ounces goat cheese
Cook farro according to directions on package (boil in salted water). Drain and set aside. Boil edamame in same water for three minutes and drain as well. In the bottom of a saucepan, heat a bit of olive oil with salt, pepper, and minced garlic clove. Add arugula and cook until wilted. Squeeze lemon juice on arugula mixture and then add the edamame and farro and mix until flavors are combined and the dish is warmed. Dish onto plates and top with crumbled goat cheese and a bit more freshly ground pepper.
-