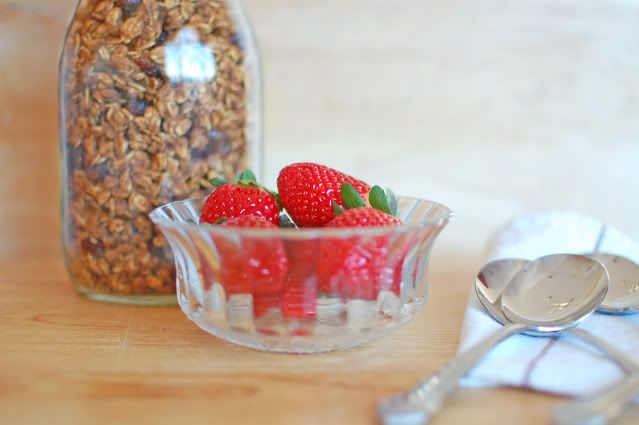 Over break, I went into a bit of granola-making-craze. For the past few months I have been trying a variety of different store-bought granola, but I decided I wanted to try my own hand at making it, since it would (1) be a lot cheaper and (2) I can make it just the way I like it.
The first recipe I tried was this
pumpkin granola
. Not only did the pumpkin flavor sound delicious, but the recipe also uses no oil or butter - the applesauce and pumpkin take the place of the fat (which I had heard was possible from some other sources). However, the downside was that it has a good deal of processed sugar. The next granola recipe I made seeks to solve the processed sugar problem, but more about that recipe in part two.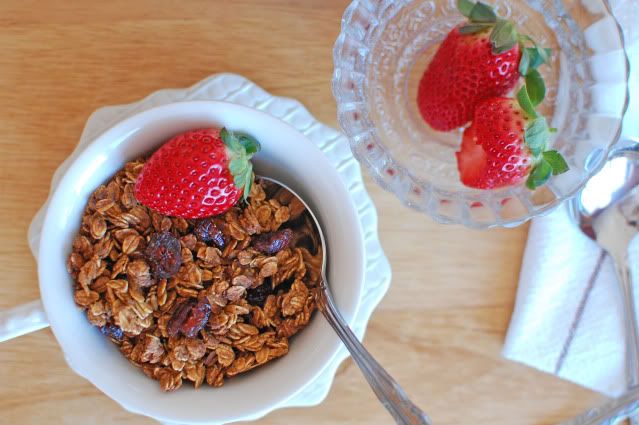 Taste-wise, I thought this was delicious. It was a little sweet, so I'd like to try the recipe again just by eliminating a good 1/4-1/2 cup of the brown sugar. But the subtle pumpkin flavor and the addition of the pepitas and dried cranberries was scrumptious, particularly with some tart and unsweetened yogurt.
The only changes I made to the original recipe were that I added some extra cinnamon and I added a bit of whole wheat pastry flour. (In all of my granola-making-research, I discovered that adding a bit of flour makes granola more clumpy. And I like my granola clumpy.)
-
Pumpkin & Cranberry Granola

adapted from Two Peas in a Pod
5 cups rolled oats
1 teaspoon pumpkin pie spice
2 teaspoons cinnamon
1/4 teaspoon nutmeg
3/4 teaspoon salt
3/4 cup brown sugar
1/2 cup pumpkin puree
1/4 cup applesauce
1/4 cup maple syrup
1 teaspoon vanilla extract
1/2 cup whole wheat pastry flour
3/4 cup dried cranberries
1/2 cup pepitas

1. Preheat the oven to 325 F. Line a large baking sheet with parchment paper and set aside.

2. In a large bowl, combine oats, spices, and salt. Mix well.

3. In a medium bowl, whisk together brown sugar, pumpkin puree, applesauce, maple syrup and vanilla extract. Whisk until smooth. Pour wet ingredients into oat mixture and stir until the oats are evenly coated. They will be moist.

4. Gently add in whole wheat pastry flour. Stir just until combined. Evenly spread the mixture onto the prepared baking sheet.

5. Bake for 20 minutes. Remove pan from the oven and stir. Bake for an additional 15-20 minutes or until the granola is golden and crisp. Remove from the oven and stir in dried cranberries and pepitas. Let cool completely. Store in an airtight container.


-